A farm group has called on the Federal Trade Commission to launch a price-gouging probe into the country's top egg producer as avian flu decimates the number of hens nationwide.
The regulator should examine whether "price gouging, price coordination, and other unfair or deceptive acts" have spurred record-high profits at Cal-Maine Foods in violation of federal antitrust laws, Farm Action said in a letter.
Cal-Maine Foods, a Mississippi-based company that controls 20% of the retail egg industry, has countered that prices are rising due to a record avian flu outbreak and increased production costs.
---
---
"In particular, the cost of feed, labor, fuel and packaging have risen considerably, which affects the cost of production, and therefore, wholesale and retail prices of eggs," Cal-Maine said in a statement shared with The Washington Times.
An FTC spokesperson said in an email the agency "doesn't comment on investigations or confirm the existence of investigations."
The price of eggs shot up 138% in December from the year before to $4.25 a dozen, according to the Bureau of Labor Statistics. The cost of all groceries rose by 11.3% over the same period.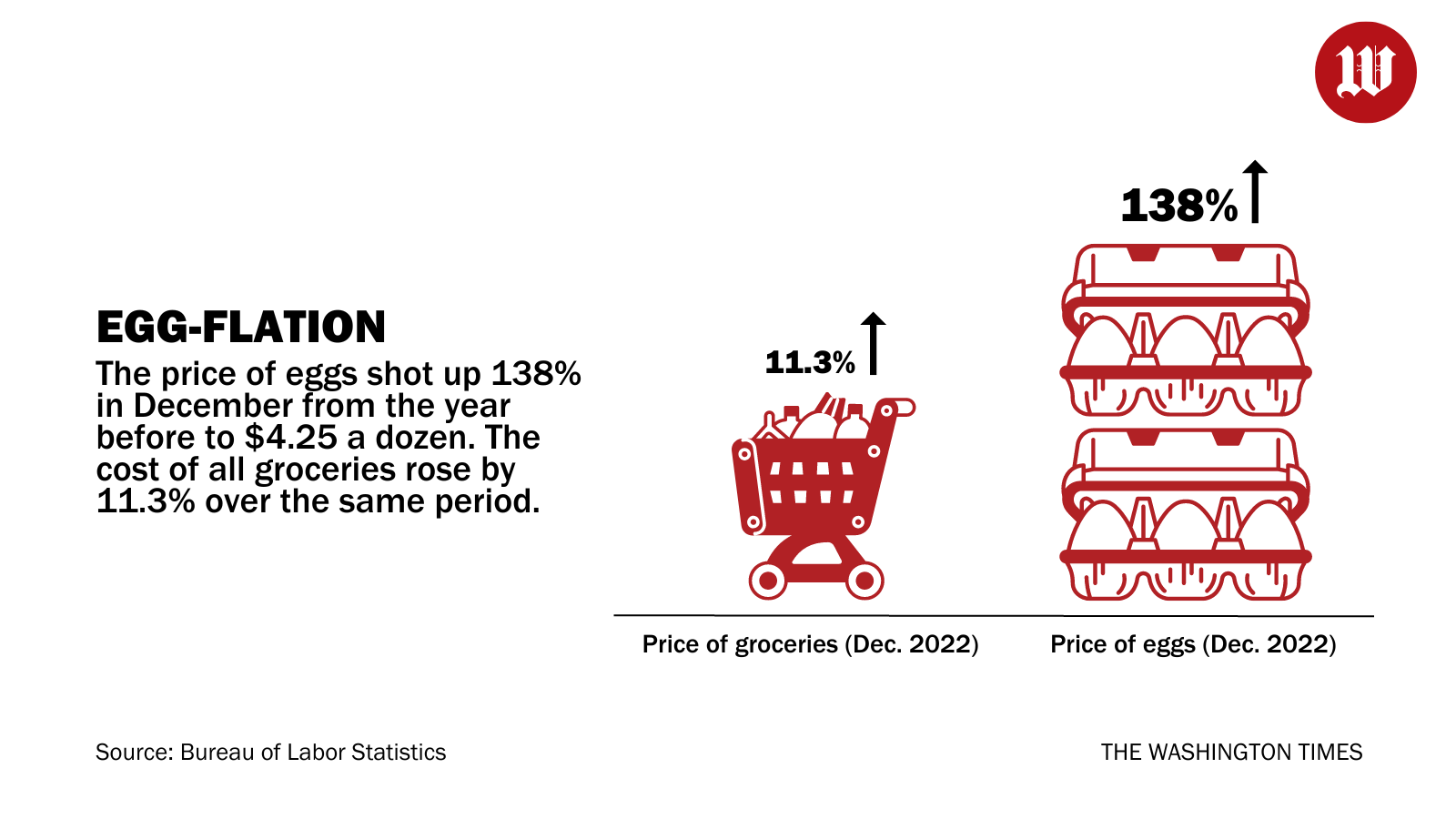 Fourth-quarter sales at Cal-Maine rose by 110% and gross profits by more than 600% from 2021 to 2022, according to a regulatory filing.
Egg prices will keep rising until the avian flu disappears and new chicks have time to mature, according to Bernt Nelson, an economist for the American Farm Bureau Federation.
"Decreased layer inventory due to Avian Influenza is the primary cause of the increase in egg prices, but it is by no means the only factor driving prices up," Mr. Nelson said in an email. "Inflation is another factor driving up the prices of not just eggs, but all food."
The U.S. Department of Agriculture has also cited avian flu for driving rising egg prices. In an email, a USDA spokesperson said the outbreak has killed more than 44 million egg-laying hens since last February.
Domestic supplies of eggs have declined by an average of about 7.5% per month over the same period, the email added.
"Grocery retailers have worked to balance heightened consumer demand with tighter supplies by scaling back their weekly featuring activities for shell eggs in store circulars," the USDA spokesperson wrote.
U.S. egg production fell by 5% in October from the year before and egg inventories dropped 29% in December from the start of last year, according to federal data.
But the avian flu outbreak had only an "apparently mild impact" on prices, Farm Action said in its letter to FTC Chair Lina Khan.
The letter cites "a collusive scheme among industry leaders to turn inflationary conditions and an avian flu outbreak into an opportunity to extract egregious profits."
The American Egg Board, a marketing group, said consumer demand has more to do with egg prices.
Loose egg prices dropped by 52% from a high of $4.84 per dozen on Dec. 18 to $2.31 per dozen on Friday, noted Mark Dresner, a spokesperson for the Chicago-based group.
"The loose egg market is a leading indicator of market trends," Mr. Dresner said in an email.
Prices will cool further if the federal government lets the free market work, according to the American Legislative Exchange Council (ALEC), a network of conservative private investors and state legislators.
"Consumers should get some relief in about six months when today's chicks reach maturity and the industry is able to increase their production capacity," said Joe Trotter, director of ALEC's Task Force on Energy, Environment and Agriculture.
Click to Read More and View Comments
Click to Hide
---
---