Hosting a Super Bowl party will cost more this year thanks to inflation's impact on grocery prices, a new marketing report found.
The average prices of 11 popular snacks and five disposable tableware products are up from the fourth quarter of last year as groceries keep pricing upward, market researcher Pattern reported in an analysis of consumer demand on Amazon.
That includes mozzarella sticks rising 8 cents from the end of last year to January, a 27% increase. And a 17% spike of 69 cents in the average retail price of crackers.
---
---
The average price of paper plates soared the most of any tableware item, rising 15% or $1.07 from last year.
"While the rate of inflation across the consumer landscape is slowing, consumers will still feel the pinch if they plan on hosting a Super Bowl party," Chase Westhoff, Pattern's data scientist, told The Washington Times. "Groceries in the dairy category and those with dairy ingredients have experienced some of the largest price increases recently.
"That means finger foods, like mozzarella sticks, and condiments, like mayonnaise and ranch sauces, dips, and dressings, are all impacted," Mr. Westhoff said.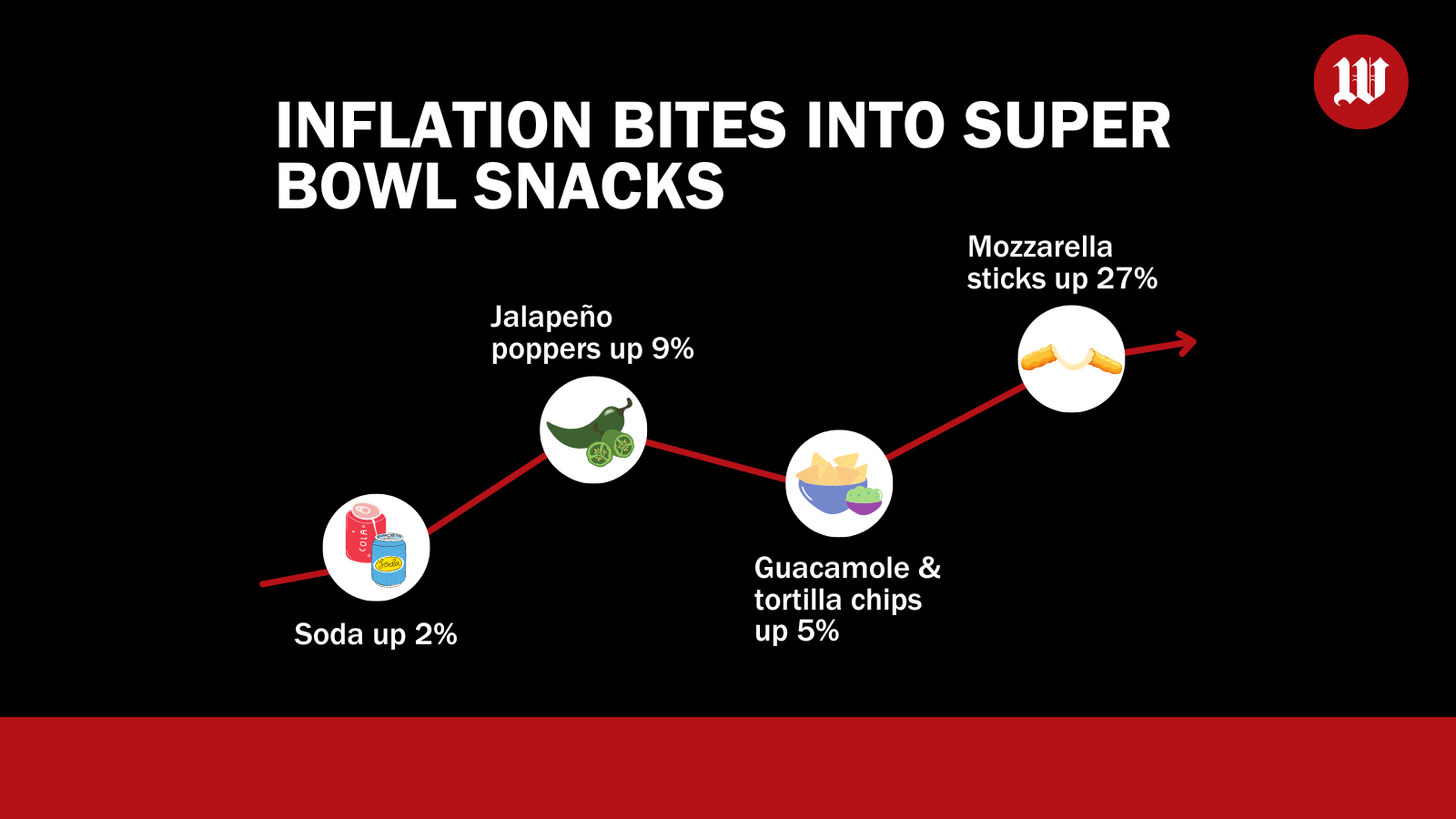 Pattern expects prices to remain elevated as fans prepare to watch the Kansas City Chiefs take on the Philadelphia Eagles in Super Bowl LVII on Feb. 12.
The average price of food in the U.S. increased by 10.4% during the 12 months ending in December, according to the latest data from the Bureau of Labor Statistics. That was down slightly from the 10.6% increase for the 12 months ending in November, but still much higher than a year ago.
Pattern also found increases since the end of last year in the prices of mayonnaise (up 35% or 8 cents); ranch dressing (a 26% increase of 55 cents); mustard (14% or 41 cents); dip (11% or 11 cents); jalapeño poppers (9% or 9 cents); guacamole (5% or 9 cents); tortilla chips (5% or 28 cents); soda (2% or 15 cents); and veggie platters (2% or 19 cents).
Price increases for disposable tableware also included plastic cups (12% or 4 cents); plastic tablecloths (10% or 19 cents); plasticware (5% or 50 cents); and paper napkins (3% or 15 cents).
Correction: Due to errors in proprietary data that Pattern provided to The Washington Times, an earlier version of this story misstated the timeline and dollar amounts of price increases. 
Click to Read More and View Comments
Click to Hide
---
---