---
Here's a selection of top gift ideas for Blu-ray and 4K UHD-loving, cinema connoisseurs in the family.
A Christmas Story (Warner Bros. Home Entertainment, rated PG, 93 minutes, 1.85:1 aspect ratio, $24.99) — The movie that became required watching for the holidays finally debuts in the ultra-high definition format to visually dazzle fans following the merry hijinks of the middle-class Parker family.
---
The 1983 classic, directed by Bob Clark and based on Jean Shepherd's multiple books, takes viewers back to 1940 to experience life in a small Indiana town through the eyes of 7-year-old Ralphie Parker (Peter Billingsley) and narration of his adult self (Shepherd).
From the start of his holiday break to Christmas Day, an excited Ralphie works on a master plan to convince Santa to gift him a Red Ryder BB gun — of course, not heeding the warning by the world that the boy might shoot his eye out.
A supporting cast also shines with Darren McGavin as the curmudgeonly but kindhearted dad, Melinda Dillon as his forgiving mother, Ian Petrella as his goofy younger brother Randy and Zack Ward as Ralphie's nemesis Scut Farkus.
The 4K brings the pageantry of Christmas to colorful life as the movie delivers an indelible and large slice of cinematic Americana capturing the innocence and angst of a child while appreciating all of the holiday season.
---
SEE ALSO: Blu-ray and DVD disk gift ideas for television show lovers
---
Best extras: The 4K disc offers a vintage commentary track going back to the DVD release from 2003 starring Clark and Mr. Billingsley — definitely worth watching the movie again to appreciate the anecdotes and production nostalgia.
Pop in the included Blu-ray version of the film to get more previously released extras including the rare 2013, 21-minute documentary on the renovation of the house used in "A Christmas Story" and a very rare radio broadcast of Shepherd reading two of his stories "Duel in the Snow, or Red Ryder Nails the Cleveland Street Kid" and "Flick's Tongue."
Note: Warner Bros' has also released three more of its holiday classics in the UHD format ($24.99 each).
Viewers can now thoroughly enjoy "Elf" starring Will Ferrell as the title character and Ed Asner as Santa; director Robert Zemeckis' computer-animated "The Polar Express" with Tom Hanks as the magical train conductor; and the Chevy Chase comedic staple "National Lampoon's Christmas Vacation."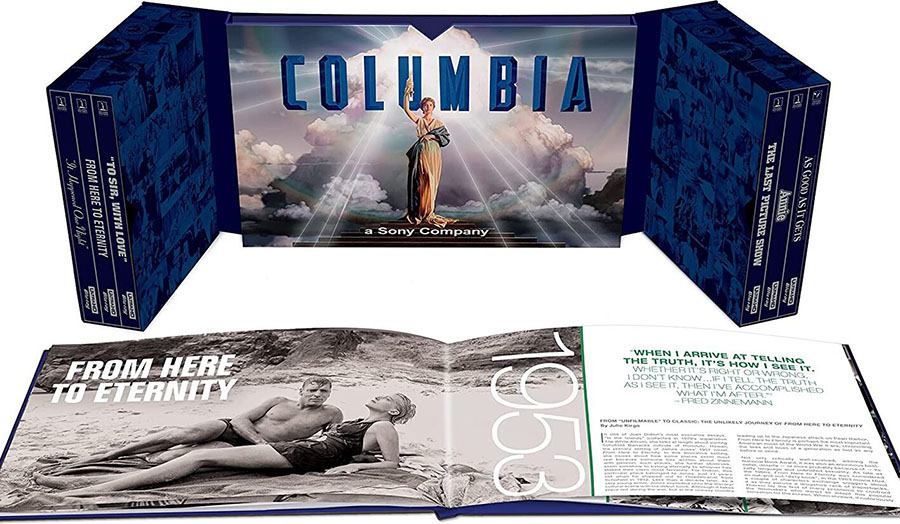 Columbia Classics Collection: Volume 3 (Sony Pictures Home Entertainment, PG, PG-13 and R, 720 minutes, 1.33:1 to 2.40:1 aspect ratio, $164.99) —Once again, one of Hollywood's oldest movie studios taps into its more than 80-year-old vast archive to deliver a third collection of six award-winning movies now remastered from the original camera negatives to the 4K format.
The 13-disc set features:
• Director Frank Capra's Academy Award-sweeping 1934 black-and-white romantic comedy "It Happened One Night" starring Clark Gable and Claudette Colbert.
• The multiple Academy Award-winning (eight to be specific) 1953 black-and-white war romance drama "From Here to Eternity" covering three American soldiers caught up in the Japanese attack on Pearl Harbor, starring Burt Lancaster, Montgomery Clift, Deborah Kerr and Oscar winners Frank Sinatra and Donna Reed.
• Director Peter Bogdanovich's 1971, black-and-white,  coming-of-age drama highlighting life in a small Texas town, "The Last Picture Show" won Cloris Leachman and Ben Johnson an Academy Award and also starred Cybill Shepherd, Jeff Bridges, Ellen Burstyn and Timothy Bottoms. 
• Legend Sidney Poitier took on the role of an inner-city school teacher in the 1967 British drama "To Sir, With Love," spotlighted by the title song sung by Lulu that was at the top of the American charts for five weeks.
• "Little Orphan Annie," a popular comic strip, was the inspiration for a popular smash Broadway musical, which then got adapted to cinema as "Annie" back in 1982. Directed by the venerable John Huston, the film starred Carol Burnett, Bernadette Peters, Albert Finney, Ann Reinking, Tim Curry and an adorable, 9-year old Aileen Quinn. Yeah, that's right, what a cast, leapin' lizards! And, if I hear "Tomorrow" one more time, I'm going to punch myself in the face.
• James L. Brooks' acerbic 1997 dramedy "As Good As It Gets" (139 minutes, PG-13) brought home Academy Awards for its two leads, Helen Hunt and the immortal Jack Nicholson, and also starred Greg Kinnear and Cuba Gooding Jr.
Suffice it to report, the collection makes a great gift for any cinephile in the family.
Best extras: Viewers get 35 hours of new and archived bonus content highlighted by optional commentary tracks, sometimes multiples on each movie. Must-listens include Bogdanovich's solo track on "The Last Picture Show"; and moderator Ms. Quinn introducing comments from Ms. Burnett, Ms. Reinking, Mr. Curry, and Rosanne Sorrentino (Pepper) for "Annie."
Other highlights offer the hourlong, 1932 black-and-white film "Little Orphan Annie" starring Mitzi Green as Annie; a 65-minute documentary on "The Last Picture Show"; the 1996 made-for-TV movie "To Sir, With Love II" starring Poitier and directed by Bogdanovich; more than 60 minutes of new featurettes remembering "From Here to Eternity"; and the Lux Radio Theater broadcast of "It Happened One Night" from March 20, 1939, starring Colbert and Gable.
And, Columbia adds a bonus Blu-ray disc containing the three-part, 1979, made-for-TV miniseries "From Here to Eternity" starring William Devane, Natalie Wood and Andy Griffith.
Viewers find all of the digital entertainment in a glossy dark-blue cardboard package (almost a foot long, 7 inches tall and 2.5 inches wide) that opens through a pair of winged panels outward to reveal three films encased on each panel and also showcases the iconic lady of Columbia Pictures holding her torch.
Behind the logo is a slot containing an over 80-glossy-page hardback book offering photos, essays and images about the films as well as the restoration process.
Pulp Fiction: Limited Edition Steelbook (Paramount Home Entertainment, rated R, 154 minutes, 2.39:1 aspect ratio, $39.99) — The 1994 movie that made film auteur Quentin Tarantino a popular culture legend finally arrives in the UHD disc format encased in a celebratory metal package and perfect for the fan of the definitive postmodern neo-crime thrillers in the family.
The Academy Award-winning screenplay (co-written by Mr. Tarantino) ties together three interweaving stories and seven sequences spotlighting a pair of hit men Vincent Vega (John Travolta) and Jules Winnfield (Samuel L. Jackson), a prizefighter Butch Coolidge (Bruce Willis) and urban gangster Marsellus Wallace (Ving Rhames).
The film highlights and sharp dialogue come every couple of minutes and include a robbery in a diner, a heroin overdose resurrection and a legendary dance sequence between Mia Wallace (Uma Thurman) and Vincent at the 1950s-themed diner Jack Rabbit Slim's.
The supporting casting was equally brilliant, led by Christopher Walken as a veteran friend of Butch's dad, Harvey Keitel as the "cleaner," Tim Roth and Amanda Plummer as the robbers and Eric Stoltz as Vincent's buddy.
Best extras: All of the digital goodies are included from the 2011 high definition release on Blu-ray.
However, the meatiest of extras are also duplicated on the 4K disc and include a 43-minute 2011 retrospective with insight from Mr. Travolta and Mr. Jackson; a 20-minute roundtable with critics discussing the impact of the film; and, believe or not, an old-fashioned, yellow-colored text trivia track running at the bottom of the screen.
Now, let's focus on the metal case, soaked in a blood-red finish that has Vincent and Mia dancing on a turnstile at the famous Jack Rabbit Slim's.
The back features part of the famous menu including a strawberry milkshake with a cherry on top, a cheeseburger and accompanied by a pack of Red Apple cigarettes.
Best of all, the interior features headshots of the couple, one on each side of the package in mid-Batdance with fingers positioned across their eyes. This is some cool stuff, Daddy-o.
Starship Troopers: 25th Anniversary Limited Edition Steelbook (Sony Pictures Home Entertainment, rated R, 129 minutes, 1.85:1 aspect ratio, $38.99) — Director Paul Verhoeven's satirical adaptation of Robert Heinlein's famed sci-fi novel returns to the 4K format and packaged with new extras and in a metal case that's sure to attract die-hard fans.
The 1997 uber-extreme and violent film skewered war and fascism as it relayed the epic galactic battle between man and highly intelligent insectoids.
Specifically, when the planet Klendathu unleashes large-scale destruction on Earth from long distance, the militaristic United Citizen Federation responds by taking the war to the bug planet with bloody and gooey results.
The cast of burgeoning stars at the time included Casper Van Dien as soldier Johnny Rico, Dina Meyer as soldier Dizzy Flores, Denise Richards as eventual starship pilot Carmen Ibanez and Neil Patrick Harris as military researcher Carl Jenkins. They mixed it up with such veterans Clancy Brown as Sgt. Zim and Michael Ironside as ferocious squad leader Jean Rasczak.
The latest "Starship Troopers" offers the same UHD remastering from the 2017 release but now with Dolby Vision enhancements. The frantic battles three-dimensionally burst from large monitors, thanks to the visual pop and screen-filling presentation.
Best extras: Sony offers quite the keepsake 25th anniversary edition presenting a comic book-style, illustrated case showcasing a cover with a pile of blue, helmeted skulls in front of an attacking warrior bug and ships in the sky.
The back is equally impressive displaying a tanker bug within the bluish terrain, spewing a stream of fire and incinerating an unlucky human soldier.
The new girthy bonus includes a 21-minute, 25th anniversary virtual roundtable with screenwriter Ed Neumeier, Mr. Van Dien, Miss Richards, Miss Meyer, Mr. Brown, Mr. Ironside and other key cast members unevenly communicating online from different locations. 
The included Blu-ray version of the film offers nearly the same extras as the 2008 release spotlighted by an intensive optional commentary track with Mr. Verhoeven and Mr. Neumeier, another audio track with Mr. Verhoeven, Mr. Van Dien, Miss Richards and Mr. Patrick Harris, a 31-minute production documentary and a picture-in-picture interactive feature called FedNet mode.
The Sonny Chiba Collection (Shout! Factory, not rated, 741 minutes, 1.85:1 to 2.35:1 aspect ratio, $69.98) — Arguably the greatest action star in the history of Japanese martial arts cinema finally gets a well-deserved but narrow release collecting only some of his best performances in a gritty high definition format.
Viewers get "Yakuza Wolf: I Perform Murder" (1972), "Yakuza Wolf 2: Extend My Condolences" (1972), "Bodyguard Kiba" (1973), "Bodyguard Kiba 2" (1973), "Shogun's Shadow" (1989), "Samurai Reincarnation" (1981), and "Swords of Vengeance" aka "The Fall of Ako Castle" (1978).
Mixing it up within genres such as urban Westerns, organized crime and historical dramas, Chiba was an unstoppable force often dishing out violent and bloody encounters.
The films also feature some masterfully choreographed close-quarters fight scenes while the later trio in the set offer plenty of sword work soaked in Samurai mythology.
Two stand-outs are "Shogun's Shadow," which has him playing an assassin tasked with killing a Shogun prince and leaving a trail of dead bodies in his wake; and Chiba playing a smaller role in "Swords of Vengeance" aka "The Fall of Ako Castle," the grand retelling of the real-event-based "47 Ronin" about a group of rogue Samurai revenging the forced suicide of their master.
Perhaps best, and sadly, remembered by American audiences for his role of quirky sushi chef and retired master swordsmith Hattori Hanzō in Quentin Tarantino's "Kill Bill," Chiba needed this celebratory set to remind serious fans of action films what true legacy he left behind.
Best extras: Shout! Factory only offers trailers and a 27-minute vintage interview with Chiba previously available during the release of The Street Fighter Collection release back in 2019.
Men in Black: 25th Anniversary Steelbook Edition (Sony Pictures Home Entertainment, rated PG-13, 98 minutes, 1.85:1 aspect ratio, $38.99) —Director Barry Sonnenfeld's 1997 cinematic homage to Malibu Comics' ultimate covert organization tasked with monitoring extraterrestrials on Earth gets a celebratory, UHD rerelease and makes the perfect starting point for fans to embrace the franchise.
The classic sci-fi comedy starred Tommy Lee Jones as Agent K and Will Smith as Agent J as the pair go on a Sanctioned MIB mission to hunt down Edgar the Bug before he starts a galactic war.
Viewers get an upgraded 4K presentation, with Dolby Vision color grading, to really appreciate the screen-filling film that offers some very detailed and goofy aliens. Does anybody remember those coffee-making alien "Worms," weapons dealer Jack Jeebs or the twins Idikiukup and Bob?
Best extras: Of course, let's first appreciate the sleek, black metal case featuring a collage of main characters on the front such as Agents K and J, their boss Zed and Frank the Pug.
Viewers will also love the collection on the back with some of the cooler aliens including Edgar in his real form and Gentle Rosenberg hiding inside his human host's cracked-open head.
It's unfortunate the interior area offers zero art, a missed opportunity for collectors in search of the best overall-looking Steelcase editions for sure.
Now, if the attractive case was not enough, Sony actually adds all of the previously released bonus content to the Blu-ray disc (including a trivia game) and adds a pair of new featurettes on the 4K disc.
Viewers will appreciate the director spending 12 minutes reflecting on his masterpiece and the franchise, and then Mr. Sonnenfeld affording 20 minutes to talk with production designer Bo Welch about the film's fun designs PPP.
E.T.: The Extra-Terrestrial — 40th Anniversary Edition (Universal Studios Home Entertainment, rated PG, 114 minutes, 1.85:1 aspect ratio, $29.98) — Yet another release of director Steven Spielberg's timeless sci-fi movie to the home entertainment realms gives parents a chance to gift a UHD version to a new generation of fans.
For those living under a rock since 1982, this classic film of hope and friendship highlights the adventures of a young child named Elliott (Henry Thomas) who befriends an extraterrestrial stranded on earth.
After government agents find out, the young boy needs help from his friends (including a very young Drew Barrymore) to avoid authorities and reunite E.T. back with his species and get him home.
This 4K version mirrors the visual beauty of the 35th anniversary release and really shines through its screen-filling presentation and composer John Williams' Academy Award-winning, sweeping score through a DTS:X upgraded sound mix.
Best extras: Universal not only offers more than three hours of vintage bonus content including the two-part, 54-minute intimate documentary from 2012 but adds a pair of new extras to sweeten the deal.
Specifically, a 27-minute, 40-year anniversary retrospective on the making of the film with comments from filmmakers Chris Columbus and J.J. Abrams, and venerable film critic Leonard Maltin; and 20 minutes of Mr. Spielberg discussing his career with critic Ben Mankiewicz at the 2022 TCM Classic Film Festival.
Wall•E (Criterion, rated G, 98 minutes, 2.39:1 aspect ratio, $49.95) — Disney Pixar's 2008 Academy Award-winning animated sci-fi romance returns to the 4K format in a three-disc set packed with extras.
In the year 2805, Earth had become an inhabitable wasteland of garbage and with only one Waste Allocation Load Lifter: Earth Class robot, left to clean it up.
Now sentient, WALL•E spends his days compacting garbage into blocks, constructing junk buildings, hanging out with a cockroach named Hal and watching "Hello Dolly!"
Life changes drastically when an unmanned probe drops an Extraterrestrial Vegetation Evaluator (EVE) robot on the planet, and it finds a seedling.
With EVE's task complete, the pair of new close friends return to space and a mothership full of overtly obese humans with WALL•E as a stowaway.
Now onboard, it must adapt to a frantic environment, protect EVE, find its precious cargo and possibly give humanity a chance of returning to Earth.
A movie that's minimal on dialogue overwhelms with maximum charm, emotion and wonder, thanks to the emotive design of Wall•E and the sound-effects wizardry of Ben Burtt.
Criterion offers the same 4K master approved by director Andrew Stanton and supervised by lighting director of photography Danielle Feinberg back in 2020 for the Disney release but adds the latest high dynamic range enhancements (HDR10+/Dolby Vision) for even stronger color acuity and depth.
Best extras: Known for its depth of deconstructing classic movies, Criterion delivers again with an outstanding historical archive and chronicle for the creation of "WALL•E."
Start the education with a pair of vintage option commentary tracks from 2008 that offer a solo track from the writer and director Andrew Stanton and the second track with co-producer Lindsey Collins, character supervisor Bill Wise, story artist Derek Thompson and lead animator Angus MacLane.
Now dive into more than five hours of new and previously released featurettes, retrospectives and documentaries spread out over the two included Blu-ray discs.
Highlights include a new 23-minute overview from Mr. Stanton detailing the specific movies and performances that influenced the story and shots of the film, an 88-minute 2007 documentary on Pixar and a new 27-minute tour through the vaults of famed animation studio.
Other extras worth a look include a student short film from Mr. Stanton created in 1987 during his senior year at the California Institute of the Arts and 23 minutes of deleted scenes.
The slipcase package also includes a 40-page booklet loaded from Mr. Stanton's sketchbooks; script notes, drawings from Mr. Stanton and the team; and an essay from author Sam Wasson.
Suffice it to report, gift receivers will gladly make Criterion's "WALL•E" part of their home entertainment library.
Top Gun: Maverick — Steelbook Edition (Paramount Pictures Home Entertainment, rated R, 1.90:1 and 2.39:1 aspect ratio, 131 minutes, $44.99) —Tom Cruise brought back his legendary character, cocky Navy pilot Capt. Pete "Maverick" Mitchell, in a new cinematic adventure to the tune of more than $1 billion at the worldwide box office while revered by fans and critics.
The story had Maverick sent back to that elite Naval aviation training facility in San Diego nicknamed Top Gun and asked to train pilots to attack a U.S. enemy's illegal uranium enrichment facility that is well-defended and requires a nearly one-in-a-million missile shot to destroy.
The twist is one of the pilots in line for the mission is Bradley "Rooster" Bradshaw (Miles Teller), the son of Maverick's best friend and former radar intercept co-pilot Goose who tragically died in a training accident.
Director Joseph Kosinski's movie not only featured a heartwarming story of family, loss and forgiveness but some incredible and groundbreaking aeronautical action highlighted in the 4K format.
Best extras: Most enjoyable isa 50-minute homage to the lead actor at the Cannes Film Festival that has Mr. Cruise talk about his life in the business and his thoughts on his and cinema's future.
The gifting potential comes in the form of the two discs in the metal case with stylized photos of Pete looking down from his F-18 at an aircraft carrier on the front and the famed pilot in the cockpit taking off from the mighty vessel on the back.
The inner two-panel scene offers a fighter jet in the air on the right side and Maverick zooming on his motorcycle on the left side with a warm sunset behind both.
Casablanca: 80th Anniversary Edition (Warner Bros. Home Entertainment, rated PG, 103 minutes, 1.37:1 aspect ratio, $33.99) — Consistently considered one of the greatest films ever made, director Michael Curtiz's Academy Award-winning romantic drama that helped highlight the Golden Age of Hollywood finally receives a UHD upgrade to make a cinephile's gift list this holiday season.
The 1942 film starred Humphrey Bogart and Ingrid Bergman in career-defining roles within a story set in Casablanca, North Africa, during World War II.
It finds the owner of the gambling saloon Rick's Café Americain, U.S. expatriate Rick Blaine (Bogart), in a life-defining dilemma.
Does he rekindle a romance with former Paris flame Ilsa Lund (Bergman) or help her husband Victor Laszlo (Paul Henreid), a Czechoslovakian resistance leader, escape the Germans?
The chemistry between Bogart and Bergman was palpable, and the supporting cast that included Peter Lorre as a rebel, Claude Rains as local police Capt. Louis Renault and Sydney Greenstreet as Rick's business rival, Signor Ferrari, fuel the dramatic, nail-biting flames.
Pop culture connoisseurs note: Conrad Veidt stars the evil Nazi as Major Heinrich Strasser and may also be remembered for his work in "The Man Who Laughs."
His contorted character's face was a huge inspiration for comic book artist Jerry Robinson's creation of Batman's archenemy the Joker.
The 4K upgrade, reportedly remastered from a nitrate fine-grain positive, as expected delivers the best-looking version of the black-and-white classic to date.
Best extras: Worth noting on the 4K disc are a pair of solo optional commentary tracks packed with research and insight from legendary film critic Roger Ebert and film historian Rudy Behlmer.
Move to the included Blu-ray disc to find an 83-minute retrospective on Bogart from the PBS television show "Great Performances" hosted by Lauren Bacall and a trio of 2012 documentaries (roughly 100 minutes) covering the director, and the production with words from directors Steven Spielberg and William Friedkin as well as film historians and experts.
Also, worthy and just plain fun is a 1943 radio broadcast adapting Casablanca for the Lady Esther Screen Guild Theater starring Bogart, Bergman and Henreid, and a Looney Tunes' cartoon "Carrotblanca" starring Bugs Bunny.
Paths of Glory (Kino Lorber, not rated, 87 minutes, 1.67:1 aspect ratio, $39.95) —Legendary filmmaker Stanley Kubrick delivered a masterpiece back in 1957 in his first antiwar movie that thankfully has been finally restored to 2160p brilliance using a new 4K master created from the original camera negatives.
Starring Kirk Douglas as French commanding officer of the 701st Infantry Regiment Col. Dax, the movie takes place during World War I and finds Col. Dax being forced to carry out a suicidal attack on a well-fortified German position called the Anthill.
When the assault goes horribly wrong and some of his men refuse to fight, the generals punish the regiment by bringing up three of Col. Dax's men for court-martial.
Col. Dax (a criminal defense attorney as a civilian) is given the chance to defend his men against cowardice in a trial completely stacked against them.
Selected for preservation by the National Film Registry, the movie is a stark indictment of the absurdity of war and an expose on the cruelty of mankind over ambition.
Pop culture connoisseurs note: Keep an eye out for Richard Anderson, who played the boss of "The Six Million Man" and now portrays the prosecutor of the soldiers with diabolical relish.
Best extras: Despite the best-looking version of the film ever released, Kino Lorber falls short in the extras department, only offering a new commentary track with film critic and editor Tim Lucas.
Now, Mr. Lucas offers one heck of a detailed overview of the production, firing a steady stream of trivia nuggets about cast and crew credits and backgrounds, comparisons to the novel, story themes and cinematography like a methodical MG08 machine gun.
However, it can't compare to Criterion high definition release of the film in 2010 that included roughly an hour's worth of interviews with the likes of Kubrick and Douglas.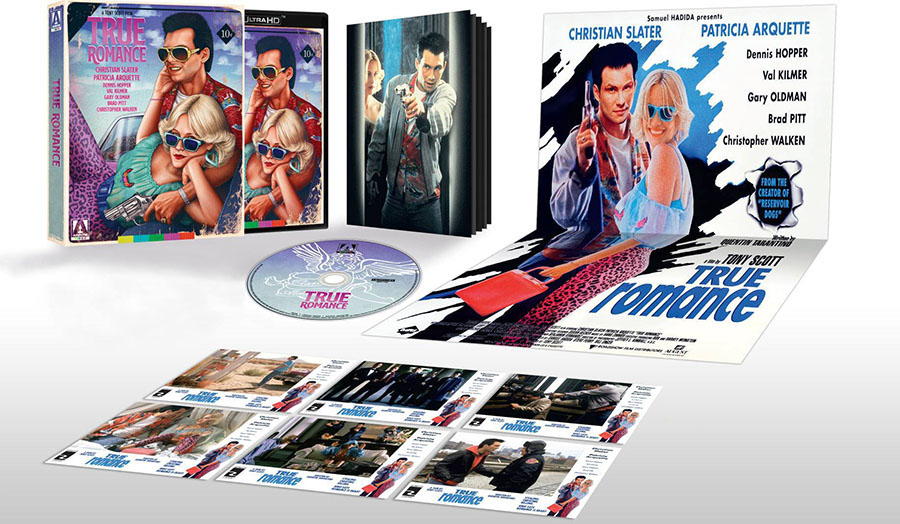 True Romance: Limited Edition (Arrow Video, not rated, 98 minutes, 2.39:1 aspect ratio, $59.95) —Director Tony Scott's 1993 romantic action thriller makes its debut in the UHD disc format with a reference quality remastering of the now cult classic.
In the bloody violent tale concocted by Quentin Tarantino, comic book nerd and martial arts film fan Clarence Worley (Christian Slater) meets prostitute Alabama Whitman (Patricia Arquette), marries her, kills her pimp and accidentally steals a mob boss' suitcase of cocaine in the process.
The pair decide to drive to Hollywood to unload the merchandise for a big payoff and, as they say, let the fun begin.
Fueled by stars such as Dennis Hopper as Clarence's dad, Gary Oldman as the pimp, Brad Pitt as a burn-out roommate and Christopher Walken as the adviser to mobster Blue Lou Boyle, the acting and action sparkle throughout.
And the scene between Mr. Hopper and Mr. Walken alone is well worth the price of admission.
Also, pay close attention to appearances by Samuel L Jackson as a drug thug, James Gandolfini as a brutal mob enforcer and Val Kilmer as an apparition of Elvis Presley.
The restoration shines using the original camera negatives as viewers can choose to watch 4K versions of either the theatrical version or the director's cut (roughly two minutes longer) of the movie.
Best extras: Arrow Video saturates lucky owners of this release with previously released and new digital and physical collectible goodies.
By far the most substantiative are the four optional commentary tracks. The efforts present one with Scott, one with Mr. Tarantino, one with Christian Slater and Patricia Arquette and a gushing one by film historian Tim Lucas.
Additionally, scene-specific commentaries are added with actors Hopper, Mr. Kilmer, Mr. Pitt, Michael Rapaport, Bronson Pinchot and Saul Rubinek.
New interviews with Susan Becker, co-editor Michael Tronick and even superfan Dan Storm (who owns the iconic purplish Cadillac used in the film).
Fans even get an alternate ending with commentary by Mr. Tarantino as he explains why it would not have worked.
The sturdy cardboard slipcase packaging includes a 60-page, full-color booklet offering new essays on the movie from Kim Morgan and Nicholas Clement, a 2008 "Maxim" oral history featuring interviews with cast and crew, and Edgar Wright's 2012 eulogy for Tony Scott.
Arrow also tosses in a double-sided poster (16 inches by 20 inches featuring newly commissioned artwork by Sara Deck and six double-sided, postcard-sized lobby card reproductions.
Easily one of the most immersive and comprehensive home entertainment releases of the year, "True Romance: Limited Edition" makes the perfect gift for a fan and a necessity for any cinephile's 4K library.
Star Trek: The Original 6-Movie Collection (Paramount Pictures Home Entertainment, Rated PG, 585 minutes, 2.39:1 aspect ratio, $125.99) —Paramount makes right for its befuddling release from last year by delivering the full complement of movies starring the classic crew of the USS Enterprise.
All six films are now together in this 15-disc set featuring 4K remastering of each from original film elements.
Lucky gift recipients now get "Star Trek: The Motion Picture" (1979); "Star Trek II: The Wrath of Khan," theatrical and director's cut (1982); "Star Trek III: The Search for Spock" (1984); "Star Trek IV: The Voyage Home" (1986); "Star Trek V: The Final Frontier" (1989); and "Star Trek VI: The Undiscovered Country," theatrical and director's cut (1991) — starring Capt. James T. Kirk (William Shatner), Mr. Spock (Leonard Nimoy), Dr. Leonard "Bones" McCoy (DeForest Kelley), chief engineer Montgomery Scott (James Doohan), security officer Pavel Chekov (Walter Koenig), helmsman Hikaru Sulu (George Takei) and communications officer Lt. Nyota Uhura (Nichelle Nichols).
Paramount also apologizes by including a brand new 4K remaster with a Dolby Atmos sound mix of the director's edition of "Star Trek: The Motion Picture" now with additional digitally rebuilt special-effects shots to deliver the absolute, and I have to believe, final and best version of the film that will ever be released to home theaters.
This collection should satisfy completists of Gene Roddenberry's original universe now getting a definitive look at these classic sci-fi films.
Best extras: Although each of the 4K discs offers optional commentary tracks (16 in total with the fourth film spotlighted by a track with Mr. Shatner and Nimoy), the bulk of the digital goodies are found on seven Blu-ray disc versions of the films.
The highlight among the hours and hours of production featurettes is an encyclopedic "Library Computer" viewing mode for each film stuffed with pop-up facts on topics such as culture, life forms, science, people and ships.
Additionally, an extra Blu-ray bonus disc for the new "Star Trek: The Motion Picture" director's edition comes packed with more new and legacy content including an eight-part documentary (48 minute long) on the film and its latest restoration as well as deleted scenes and effects and costume tests.

Copyright © 2023 The Washington Times, LLC.