---
Here's a selection of top gift ideas for the DVD and Blu-ray-loving, TV binge-watcher in the family.
The Big Bang Theory: The Complete Series, LimitedEdition (Warner Bros. Home Entertainment, rated TV-14, 6,138 minutes, 1.78:1 aspect ratio, $249.99) — Bazinga! Gift givers looking for a new way to expose their favorite nerds to one of the funnier Emmy Award-winning TV shows in the galaxy can now offer a whopping 25 Blu-ray disc set loaded with the sitcom that ran for 12 seasons on the CBS network.
---
That's 279 episodes chronicling the subcultured lives of physicists Leonard Hofstadter (Johnny Galecki), roommate Sheldon Cooper (Jim Parsons), next-door neighbor Penny (Kaley Cuoco) as well as scientist friends Amy (Mayim Bialik), Howard (Simon Helberg), Raj (Kunal Nayyar) and Bernadette (Melissa Rauch) as they learn, live, love, solve the galaxy's riddles and read comic books in Pasadena, California.
Suffice it to report, pop culture aficionados will be pleased with many of the 22-minute episodes that cover theories on the Silver Surfer, Sheldon dressing as the Doppler effect for Halloween and the loss of Professor Proton as well as guest appearances by Stan Lee, Stephen Hawking, Adam West Buzz Aldrin, James Earl Jones, Carrie Fisher and Mark Hamill.
Best extras: The set boasts roughly 12 hours of previously released bonus content including a look at the show's physics consultant David Saltzberg, final episode farewells, and some very funny gag reels
An additional disc contains three exclusive featurettes covering a retrospective of the series (28 minutes) with creators and cast, a compacted greatest hits of the shows (25 minutes) and a final look at the guest stars of the "Big Bang Theory" (12 minutes).
The discs comes in a flat-book layout with a pop-up of the main cast and includes a full-color, 32-page episode guide and a code to watch all of the episodes via the Vudu streaming service digital copy.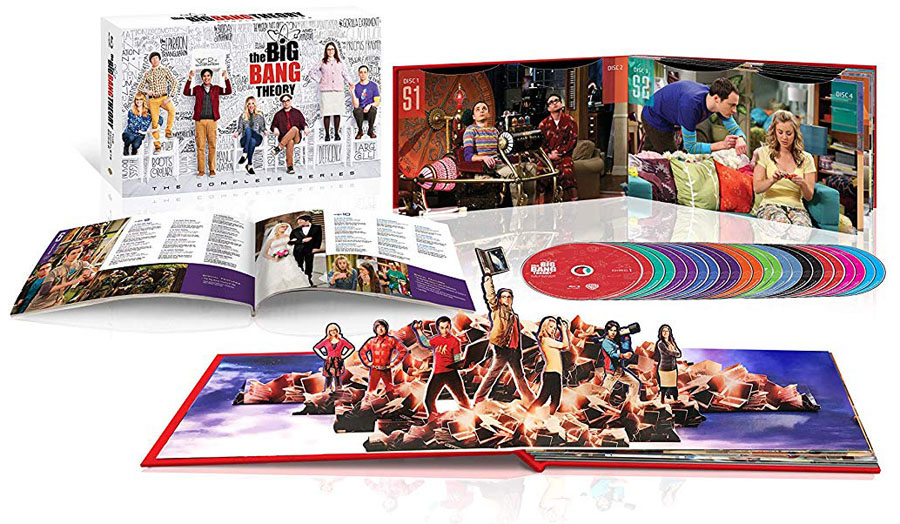 Game of Thrones: The Complete Series (HBO Bros. Home Entertainment, rated TV-MA, 3,800 minutes, 1.78:1 aspect ratio, $199.95) — HBO's epic adaptation of author George R.R. Martins' dramatic medieval fantasy universe arrives in a massive, 33-disc, Blu-ray set offering all eight seasons of the 59-time, Emmy award-winning series and more than 15 hours of extras.
Told over 73 episodes, the dark and complex adventure followed the interactions between the Seven Kingdoms of Westeros and the desire to control the Iron Throne.
It starred one of the largest casts in television history featuring Emilia Clarke (Daenerys Targaryen), Kit Harington (Jon Snow), Lena Headey (Cersei Lannister), Nikolaj Coster-Waldau (Sir Jaime Lannister), Peter Dinklage (Tyrion Lannister) and Gwendoline Christie (Brienne of Tarth).
Packed with pathos, war, political intrigue, betrayal, unbridled brutality, dragons and the undead, each episode offers a stunning, high definition screen-filling visual presentation, with even the infamous "too dark" Episode 3 in Season 8 looking pretty good now.
Each season also arrives with the aurally impactful, room-enveloping Dolby Atmos sound remix, for those able to afford the added technology in their entertainment room.
This should be the perfect gift for GOT fans, but the questionable last season and its unsatisfactory conclusion left many a hardcore fan shaking his head in disbelief. However, those fleeting finale faux-pas cannot ruin some of the best television ever created.
Best extras: First, three additional discs of bonus content in the package offer a two-part, over 90-minute-long reunion special hosted by Conan O'Brien with much of the principal cast; a 45-minute animated overview of the great families of Westeros; 102-minutes worth of key scene breakdowns; 78 minutes of production background (with plenty of comments from the author); and 163-minutes worth of visual effects breakdowns.
Next, HBO has always taken care of fans willing to buy the Blu-ray or 4K disc individual season sets over the years by generously overloading them with extras.
Naturally, the Blu-ray discs compiling each season come with that same bountiful supply of goodies.
That translates into a whopping 88 optional commentary; motion comic tales of Westeros' mythos in "Histories and Lore"; in-episode guides; an interactive, encyclopedic resource "Complete Guide to Westeros"; hidden dragon eggs uncovering more series background; and plenty of character profiles and extra featurettes.
Country Music (PBS Home Entertainment, rated TV-PG, 941 minutes, 1.78:1 aspect ratio, $99.99) — Documentarian extraordinaire Ken Burns returned to PBS this year with a 16-hour exploration of one of America's indigenous musical forms.
Covering the early years of "hill-billy music" back in the 1920s and through to the mid-1990s when Johnny Cash performed on his last album, it's a historical treasure chest of knowledge and song brought to life via vintage photos, current interviews, archival video and recorded performances.
Narrated by Peter Coyote, a familiar voice on Mr. Burns' documentaries, the eight-part series covers all of the genre's minutiae from the emergence of bluegrass to honky tonk, the rise of the Outlaws, rockabilly and the return to roots country.
Mr. Burns covers near every early legend such as Fiddlin' John Carson, Sara Carter and the Carter Family, Jimmie Rodgers, Hank Williams, Ernest Tubbs, Earl Scruggs, Patsy Cline and Chet Atkins. The documentary pulls no punches looking at the some of the racism of the minstrel days, Rodgers' battle with tuberculosis, Williams and Johnny Cash's addiction demons as well as Garth Brooks' difficult rise to the top.
Interviews include many of the leaders of the industry including Charley Pride, Ralph Stanley, Merle Haggard, Dolly Parton, Kris Kristofferson, Carolina Chocolate Drops' Rhiannon Giddens, John McEun, Mel Tillis, Rosanne Cash, Marty Stuart, Carlene Carter, Vince Gill, Ricky Skaggs, Brenda Lee, Hank Williams Jr., Tom T. Hall, Ralph Stanley and Dwight Yokum.
Of course, the songs lead the documentary, and viewers will tap along to hits such as Earl Scruggs and the Foggy Mountain Boys' "Foggy Mountain Breakdown," Dolly Parton's "Jolene," Hank Williams' "Hey Good Lookin'," Tammy Wynette's "Stand By Your Man," Kris Kristofferson's "Me and Bobby McGee," and Johnny Cash's "I Walk the Line" to just name a few of the hundreds heard.
Suffice it to report, this is a goldmine gift for any country music fan as well as any fan of music.
Best extras: Over three hours of unused interview snippets, more than three dozen in total, are a small treasure for the hard-core fans.
Just a few nuggets, around 10 minutes each, include Charlie Daniels talking about the roots to fiddle riffs in the "Devil Went Down to Georgia"; Elvis Costello on Hank Williams songwriting abilities; Don Maddox and Marty Stuart on The Maddox Brothers creating the West Coast country sound; Jack White and Paul Simon on Elvis and the birth of rock and roll; and Mel Tillis on singing to control his stutter.
Peanuts: 70th Anniversary Holiday Collection, Limited Edition Giftset (Warner Bros. Home Entertainment, not rated, 1,171 minutes, 1.33:1 and 1.78:1 aspect ratio, $99.99) — I can't think of a better way for families to celebrate the holidays than with the latest, 4-disc, Blu-ray set delivering the most popular, seasonal-themed animated adventures of cartoonist Charles M. Schulz's beloved characters.
Covering the years from 1965 to 1992, the set includes the key television specials: "It's the Great Pumpkin, Charlie Brown"; "A Charlie Brown Thanksgiving"; "A Charlie Brown Christmas"; as well as "It's Magic, Charlie Brown"; "Charlie Brown's All-Stars"; "The Mayflower Voyagers"; "Play it Again, Charlie Brown"; "It's Christmastime Again, Charlie Brown"; and "It's Flashbeagle, Charlie Brown."
Best extras: New to this release on a bonus disc are optional audio commentaries on the specials "It's the Great Pumpkin, Charlie Brown" (from comedian Robert Smigel); "A Charlie Brown Thanksgiving" (from cartoonist Lynn Johnston); "It's a Charlie Brown Christmas" (from cartoonist Patrick McDonnell ); and the 19-minute featurette "It's Not the Holidays without Charlie Brown, Charlie Brown!"
Culled from previous releases, the set also includes the archival featurettes "We Need a Blockbuster, Charlie Brown!"; "Popcorn and Jellybeans: Making a Thanksgiving Classic"; and "A Christmas Miracle: The Making of a Charlie Brown Christmas" — averaging 15 minutes each.
The package, limited to 25,000, is equally special containing a 64-page, full-color compacted book of select Peanuts holiday cartoons and a 4-inch-tall, plastic version of Snoopy in a red scarf and hat standing in his red doghouse (8 inches tall by 5.5 inches wide) illustrated with lights for the holidays.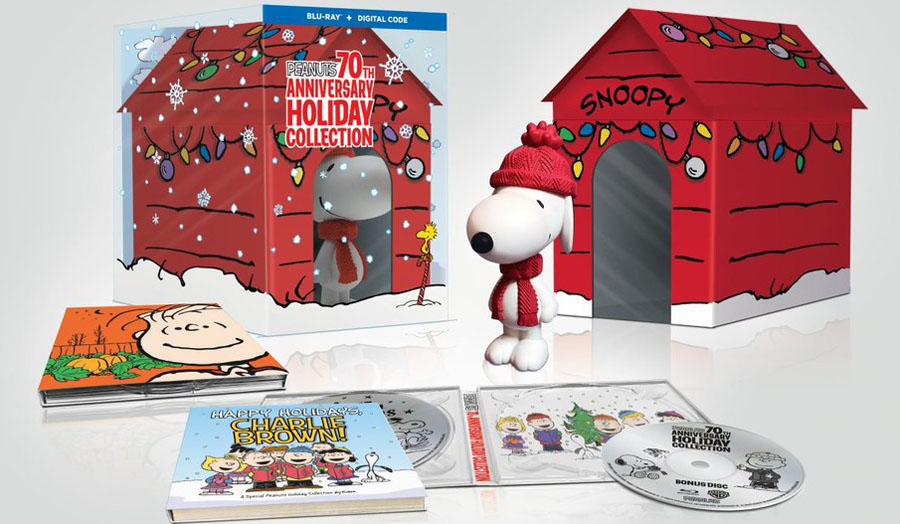 Space 1999: The Complete Series(Shout Factory, not rated, 2,370 minutes, 1.33:1 aspect ratio, $92.96) — With "Star Trek" a distant memory and "Battlestar Galactica" waiting in the wings, the masterminds behind the supermarionated "Thunderbirds," Gerry and Sylvia Anderson, dabbled in their own sci-fi syndicated television show during the mid-1970s that has now become a cult classic.
Now both seasons of the series, all 48 episodes, are available for American audiences through a 13-disc boxed set in the high definition format to witness the misfortunes of the inhabitants of Moonbase Alpha jettisoned into the far reaches of space after a nuclear explosion on the lunar surface.
The marooned colony survives on the planetary orb as they try to figure out how to return to earth and are led Martin Landau as commander John Koenig, Barbara Bain as Dr. Helena Russell, Nick Tate as chief pilot Alan Carter, Barry Morse as science adviser Victor Bergman and Catherine Schell as science officer Maya.
Despite the show's age, it cleaned up nicely with saturated colors and highlighted miniature spaceships and special effects created by Academy Award-winning craftsman Brian Johnson, who is famous for "2001: A Space Odyssey," "The Empire Strikes Back" and "Alien."
Best extras: Five optional commentary tracks, mainly with Mr. Anderson, and a special features disc spearheaded by a 90-minute overview of the series starts the bonus content.
The extra disc also includes a 17-minute vintage interview with Miss Anderson, 11 minutes on the shows merchandising and over 30 minutes of new interviews with Miss Bain, Mr. Tate and director Kevin Connor.
Elementary: The Complete Series (Paramount Home Entertainment, rated PG, 3,896 minutes, 1.78:1 aspect ratio, $38.88) — Yet another modern-day interpretation of Sir Arthur Conan Doyle's legendary sleuth and his trusted sidekick is translated into a seven-season, successful crime drama on CBS between 2012 and 2019 starring Jonny Lee Miller as Detective Sherlock Holmes and Lucy Liu as Dr. Joan Watson.
The story offers a disgraced Mr. Holmes leaving London after a final stint in rehab and working in Manhattan for the NYPD as a consultant while staying drug-free with help from live-in companion Dr. Watson, a successful surgeon initially paid by Sherlock's father to keep an eye on his son.
Now all 153 episodes are on 40 DVD discs housed in a clamshell case. The show often feature twists on Conan Doyle's characters such as a female villain Moriarty (Natalie Dormer) or Inspector Tobias Gregson, now 11th Precinct Capt. Thomas "Tommy" Gregson (Aidan Quinn) in the critically acclaimed seasons.
Best extras: Culled from the previous DVD releases, viewers will find among the disc content a pair of optional commentary tracks on "Paint It Black" and "Hemlock: The Female of the Species" (with Miss Liu) and about two dozen featurettes on the production as well as deleted scenes and gag reels.
Of course, what's missing is a Blu-ray version of the series to make up for the less-than-stellar DVD quality visual presentation.
China Beach: The Complete Series (Time Life, not rated, 3,553 minutes, 1.78:1 aspect ratio, $99.98) — The ABC network's Emmy- and Golden Globe-winning television series that ran for four seasons between 1988 and 1991 returns to the DVD format to offer one of the best gritty war dramas ever broadcast.
The 19-disc set offers all 62 episodes that featured the U.S. Army doctors and nurses as well as military and civilian personnel of the fictional 510th Evacuation Hospital and R&R center during the Vietnam War, covering their lives during and after returning home from the battleground.
Cast notables included Dana Delany as nurse and 1st Lt./Capt. Colleen McMurphy; Marg Helgenberger as prostitute K.C. Koloski; Jeff Kober as Marine Staff Sgt. Evan "Dodger" Winslow; Michael Boatman as SP4 Sam Beckett; Robert Picardo as head surgeon Capt. Dr. Dick Richard; and Ricki Lake as Red Cross volunteer Holly Pelegrino.
Best extras: Besides securing the licensing to play hundreds of classic songs from the 1960s and 1970s that proved integral to the shows, the set offers five hours of bonus features culled from previous releases and scattered on the discs.
They include optional commentary tracks on five episodes, featurettes on the origins of the show, highlights from the 2012, 25th Anniversary reunion and video interviews with the cast and crew.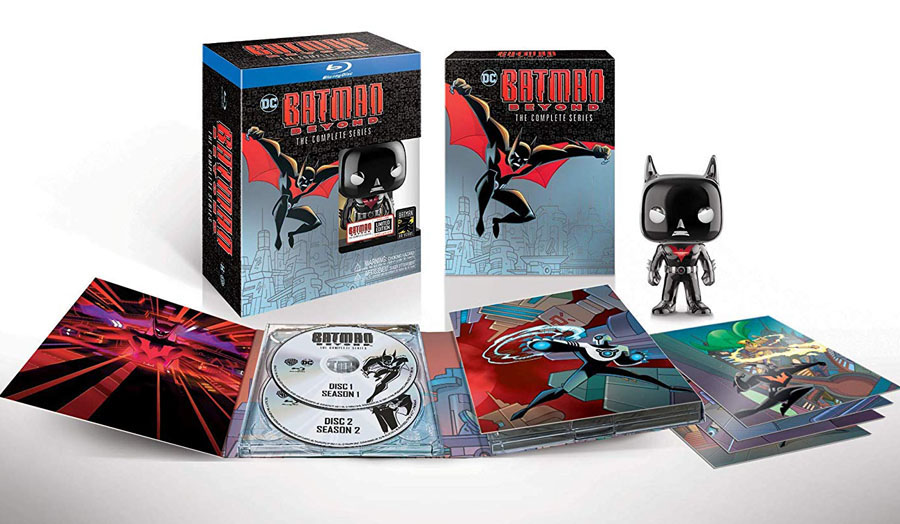 Batman Beyond: The Complete Series(Warner Bros. Home Entertainment, not rated, 1,171 minutes, 1.33:1 and 1.78:1 aspect ratio, $99.99) — A new generation of Batman fans were able to appreciate a teenage, high-tech version of the Caped Crusader on the Kids' WB for three seasons between 1999 and 2001.
Mentored by an elderly Bruce Wayne (Kevin Conroy) and fighting a rogue's gallery of criminals, Terry McGinnis' (Will Friedle) Emmy Award-winning animated adventures in Gotham now arrives on the high definition format, newly remastered and on four Blu-ray discs.
The 52 episodes showcase encounters with the Dee Dee sisters, Blight, Bane, Mr. Freeze and the Jokerz gang, and the package adds an extra disc with the full-length animated film "Batman Beyond: Return of the Joker" featuring Mark Hamill as the voice of the Clown Prince of Crime.
A slight caveat to the cartoon series visual upgrade: Only 41 of the 52 episodes were restored from the original film source or camera negative. The other 11 episodes were too worn to use the same process but were upscaled with mediocre results.
Despite that minor beef, "Batman Beyond" is still one of the best modern-day, animated interpretations of the characters out there and a worthy gift for Dark Knight lovers.
Best extras: Previously released extras scattered on the discs includes four optional commentary tracks for "Rebirth," "Shriek," "Splicers" and "The Egg Baby," panel discussions and look at the role of music in the series.
An sixth disc provides some great new content starting with a 53-minute creator roundtable starring series co-creator Bruce Timm, Mr. Conroy, Mr. Friedle, series writers Bob Goodman and Stan Berkowitz, and producer Glen Murakami.
There's more with a breezy, 34-minute history of Batman, a cavalcade of comic book art and media moments as well as interviews with many of his creators, interpreters and fans including Bob Kane, Stan Lee, Mark Hamill, Frank Miller, Denny O'Neil, Jim Lee, Adam West, Julie Newmar, Kevin Conroy, Neal Adams and Jerry Robinson.
Also on the disc, the full, 90-minute 2010 documentary "Secret Origins: The History of DC Comics" comes loaded with legendary creator interviews with such luminaries as Mark Waid, Joe Kubert, Neil Gaiman, Marv Wolfman, Grant Morrison, Jim Lee, Neal Adams and key Silver Age editor Julius Julius Schwartz.
The box even contains more goodies. Owners get a limited edition, shiny chrome, 4-inch-tall, mini-figure of Batman from Funko and four, eye-popping, three-dimensional lenticular art cards (5.5 by 7 inches), suitable for framing, featuring the new Batman-fighting villains such as the Joker.
Ultra Q: The Complete Series (Mill Creek Entertainment, not rated, 716 minutes, 1.33:1 aspect ratio, $22.99) — Eiji Tsuburaya, co-creator of legendary Japanese monsters such as Godzilla, Rodan and Mothra, offered Japanese TV audiences an "X-Files"-like show in the late 1960s starring a team of strange phenomena investigators.
They included photojournalist Yuriko Edogawa (Hiroko Sakurai), pilots Jun Manjome (Kenji Sahara) and Ippei Togawa (Yasuhiko Saijo), and the world-renowned scientist, Professor Ichinotani (Ureo Egawa).
Well, that black-and-white show that launched the massive Ultraman franchise, even existing today as a cartoon on Netflix, is now available in the high definition format on a four-disc, Blu-ray set.
Offering all 28 episodes of the series presented in Japanese with English subtitles, the collection gives viewers a nostalgic introduction to the corny sci-fi drama and some major Kaiju (Japanese monsters) in the series, such as the robotic meteorite behemoth Garmon, the giant octopus Sudar and the Rodan-inspired Litra.
Best extras: No extras on the disc, boo, but the limited edition steel book package includes a 28-page, full-color booklet covering the history of the show, a synopsis of each episode, and a guide for the main characters, main monsters and technology.
By the way, Mill Creek now owns the disc and digital distribution rights and also offers gift givers "Ultraman: The Complete Series" and "Ultraman: Ultraseven" both in a steel book case ($49.98 each) as well as "Ultraman: Geed" and "Ultraman: Orb" ($39.98 each).
Farscape: The Complete Series(Sony Pictures Home Entertainment, not rated, 4,335 minutes, 1.33:1 and 1.78:1 aspect ratio, $95.99) — The Australian sci-fi show that captured the imaginations of American audiences on the SciFi Channel between 1999 and 2003 returns to celebrate its 20th anniversary in a 21-disc, high-definition set.
Through four seasons and 88 episodes, viewers followed the adventures of astronaut John Creighton (Ben Browder), sucked into wormhole and ending up on the other side of the universe, and now stuck on a living prison ship called Moya filled with alien mutineers.
He finds common ground with his new shipmates as he and the varied species avoid being captured by the militaristic Peacekeepers and getting in the middle of a war with the reptilian Scarrans as John tries to find another wormhole to return to Earth.
Worth noting is Jim Henson's Creature Shop created the aliens through make-up prosthetics, puppets and animatronics to deliver creatures more potent than "Star Wars" and as intricate as the "Dark Crystal."
Also worth noting is the set includes for the first time for U.S. audiences the two-part mini-series "Farscape: The Peacekeeper War" in the Blu-ray format.
One annoyance is protecting the discs in the hard plastic clamshell case as they tend to fall off the rack stems in multiples when opening the box, so be careful.
Best extras: All of the voluminous goodies are culled from the 2011 A&E Home Video release and include more than 24 optional commentary tracks with nearly every actor and creator; hours of beefy featurettes and extras covering the origins of the series with Brian Henson; an alternate cut of the season 2 premier episode; behind-the-scene interview segments; and loads of deleted scenes. This is the best it's going to get for the "Farscape" fan in the family.
Charlie's Angels: The Complete Series (Mil Creek Entertainment, rated TV-PG, 6,112 minutes, 1.78:1 aspect ratio, $169.98) — I'll mention the elephant in the room and suspect that many a teen in the mid-1970s welcomed puberty with help from one of the stars of this ABC television staple through appreciating her legendary swimsuit poster.
Farah Fawcett-Majors popularity was, of course, elevated by the detective drama starring three female private investigators (a mixed celebrity bag over the series run including Fawcett-Majors, Kate Jackson, Jaclyn Smith and Cheryl Ladd) taking direction from the mysterious Charlie (voiced by John Forsythe) and wacky assistant Bosley (David Doyle).
Fans can now consume the entire five-season run of the original series that ran from 1976 to 1980 as well as the 2011 reboot for the first time in the Blu-ray format.
Packed on 20 discs are 118 episodes of the adventures of the often bikini-wearing, pistol-packing heroines, solving crimes and breaking hearts.
Pay close attention for guest stars such as Sammy Davis Jr., Sonny Bono, Jamie Lee Curtis and even Robert Urich as private investigator Dan Tanna as well as Fred Grandy and the whole "Loveboat" crew.
Best extras: No bonus content is included on any of the discs, but it's still a nostalgic trip worth taking for many an older fan.
Gotham: The Complete Series (Warner Bros. Home Entertainment, rated TV-14, 3,896 minutes, 1.78:1 aspect ratio, $112.99) — Between 2014 and 2019, Fox gave viewers the definitive live-action origin story of Commissioner Jim Gordon, Batman and his rogue gallery of villains in an adult crime drama loaded with action and angst.
To those who never had a chance to appreciate the series, gift givers can now present the entire five season run of the show on the high definition format compiling all 100 episodes spread out over 18 Blu-ray discs.
Dark Knight admirers will learn about the tragic life of young Bruce Wayne (David Mazouz) growing up with his butler Alfred Pennyworth (Sean Pertwee), his introduction to Gotham City Police Department recruit Jim Gordon (Ben McKenzie) and their early dealings with Selina Kyle aka Catwoman (Camren Bicondova), Oswald Cobblepot aka The Penguin (Robin Lord Taylor) and Edward Nygma aka The Riddler (Cory Michael Smith).
Top-notch performances abound especially when watching the budding relationship between Penguin and the Riddler but, by far, the most riveting moments of the series would come with the introduction of the brothers Jerome and Jeremiah Valeska (Cameron Monaghan) in the third season.
One would go on to become Gotham's Clown Prince of Crime in the most horrifying version of the character ever presented. He was never officially called the Joker in the series, but we all know who this lunatic would become (wink).
Best extras: Nothing new for the complete series but each individual season's discs come with the originally released bonus content.
The best includes a 3-part, 32-minute long production documentary, character profiles for each season, a 26-minute look at Gotham under the noir genre spotlight, multiple ComicCon panel presentations (averaging 40-minutes each and plenty of deleted scenes
Cobra Kai: Season 1 and 2, Collector's Edition (Sony Pictures Home Entertainment, not rated, 591 minutes, 1.78:1 aspect ratio, $30.99) — Critics and fans of "The Karate Kid" movie franchise embraced a new episodic series running on the YouTube Premium streaming service bringing back key characters of the original story.
Specifically, three decades after the first film covered the All Valley Karate Tournament; viewers learn the fates of Daniel LaRusso (Ralph Macchio) and his high school adversary, Johnny Lawrence (William Zabka).
Mr. LaRusso is living the good life owning a car dealership while Mr. Lawrence is a construction worker fallen on hard times. Looking for any level of redemption, Johnny opens the infamous Cobra Kai karate dojo, and the rivalry is reignited.
Those without the streaming service will most appreciate the gift of watching all 20 episodes from the first two seasons on the four-disc, DVD set.
This is a fun show, folks, loaded with nostalgia, drama and humor, but my only beef is with delivering the series on the antiquated DVD format. Let's talk high definition or better next time Sony, the fans deserve it.
Best extras: The discs offer featurettes on the characters and fight choreography, cast reads and Easter egg callbacks to the original movie franchise.
The package includes a double-sided headband for those stuck on the fence between allegiance to Miyagi-Do and Cobra Kai teachings.

Copyright © 2020 The Washington Times, LLC.