---
A senior Virginia state senator on Tuesday blasted a campaign ad from Democrat Terry McAuliffe as a misleading "example of self-puffery" — a development that comes as Mr. McAuliffe and Republican Attorney General Kenneth T. Cuccinelli II try to soften their public images early in the high-stakes gubernatorial contest.
The 30-second ad describes the General Assembly's push to pass a $6 billion transportation package backed by Gov. Bob McDonnell, singling out "tea party Republicans" who "refuse to support the plan."
---
"But Terry McAuliffe thinks this is too important a time for partisan politics," the ad's narrator says. "McAuliffe reaches out to Democrats and urges them to support the bill, and the bill passes."
---
SEE ALSO: McAuliffe ahead in Virginia governor poll
---
Sen. Walter A. Stosch, the typically staid Senate Finance Committee chairman who selected the body's conferees on the bill, said that for Mr. McAuliffe to imply any credit for its passage is "misleading."
"The public has long known that all political advertisements should be digested with a grain of salt, but every once in a while there is one that stands out for its absurdity," said the Henrico Republican who also serves as Senate president pro tempore. "His attempt at claiming credit where none is due is an example of self-puffery that frankly deserves a prompt correction."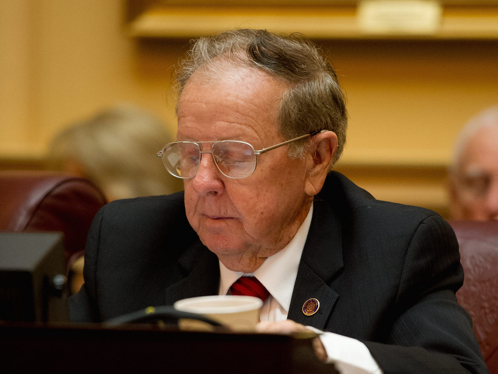 Sen. Charles J. Colgan, Manassas Democrat and the longest-serving member of the Senate, was an informal adviser to the conferees as they hashed out differences between the House and Senate versions.
Earlier in the week, Mr. Colgan said he didn't recall speaking with Mr. McAuliffe about it. But he acknowledged Friday that he did speak with him the day before the General Assembly adjourned, though he didn't recall specifically what the two talked about.
When asked for a response to Mr. Stosch's charge, Mr. McAuliffe's campaign pointed to comments from six Democratic legislators on his campaign website attesting to the Democrat's involvement.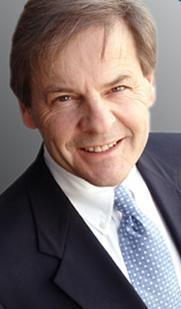 House Minority Leader David J. Toscano of Charlottesville, for example, said he was in touch with Mr. McAuliffe to discuss strategy, message and vote counts and that the Democrat helped persuade members privately and publicly.
One Democratic aide acknowledged that Mr. McAuliffe attended a private caucus meeting but that she wasn't aware of any direct lobbying efforts from Mr. McAuliffe on the bill.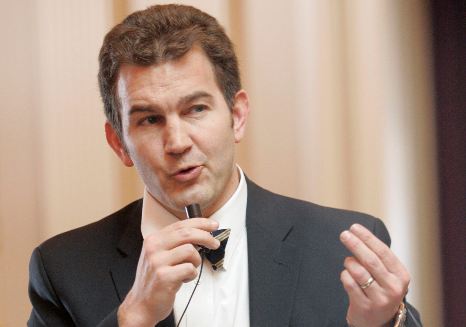 J. Chapman Petersen, Fairfax Democrat and one of two Northern Virginia senators to vote against the plan, said he never spoke with Mr. McAuliffe.
"I don't know if he tried to reach me," he said.
Mr. Peterson said he was unlikely to be swayed anyway.
"I was pretty much going to be a 'no.' As far as who was for it or who was against it, it wasn't going to matter to me," he said.
Several other Democratic aides in the General Assembly also said their offices were never contacted, though they acknowledged that lobbying on the bill was possible.
"There was no contact between Terry McAuliffe and our office and nobody thought he had any impact on the outcome," one Senate aide said.
Such disconnect could feed a perception of Mr. McAuliffe as a self-described "hustler" — the former moneyman for Bill Clinton who once loaned Mr. Clinton and his wife, Hillary Rodham Clinton, more than $1 million to buy a home and drank shots of rum on national television as Mrs. Clinton's 2008 presidential campaign came to a close.
Regardless of the content, the generally positive tone of the ad mirrors Mr. McAuliffe's first one — a biographical overview that recalls the driveway-paving company he started at the age of 14 and paints the Syracuse, N.Y., native as a family man who has lived in Virginia "for over 20 years" and is dedicated to creating jobs.
Indeed, both he and Mr. Cuccinelli, the standard-bearers for their party, are spending the early stages of their respective campaigns attempting to soften the edges of negative perceptions. For Mr. McAuliffe, it's the image of a fast-talking political wheeler-dealer, and for Mr. Cuccinelli, it's that of a crusading conservative who opponents say would focus more on social issues such as abortion and gay rights than the economy and jobs.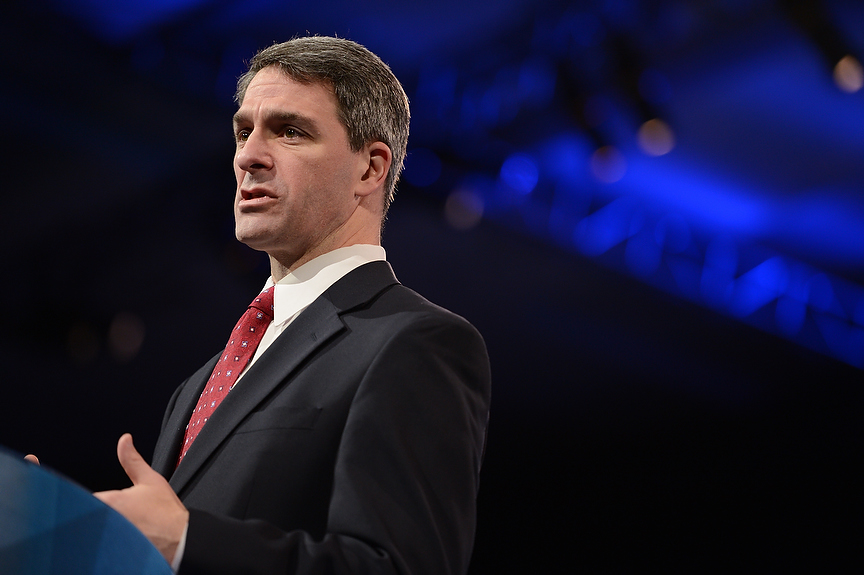 On Tuesday, Mr. Cuccinelli unveiled the results of a bipartisan commission's recommendations on streamlining the process for restoring rights to felons — and invited people to make it a campaign issue. He commended Mr. McDonnell for restoring rights to more than 4,600 ex-convicts — more than any other governor in Virginia's history — but said he is concerned that future administrations might not deal with it the same way.
Short of a constitutional amendment, he said, "the best alternative is for voters to take this into account and to express to those running, particularly for governor because of the exclusive constitutional authority, that this is important to them. And make it part of the election process, of the voting process."
Democrats pointed out Tuesday that Mr. Cuccinelli as a state senator voted against efforts that would have put restoring rights in the hands of the General Assembly and against a constitutional amendment that would have granted automatic restoration of rights to nonviolent felons.
Mr. Cuccinelli argued Tuesday that the Virginia Constitution places that power solely in the hands of the governor — a contention disputed by the state chapter of the American Civil Liberties Union — and that a successful criminal justice system needs to combine rehabilitation with punishment.
He said a major concern of his is a development he called "felony creep," when some low-level offenses such as theft are ratcheted up from misdemeanors to felonies depending on the value of what was stolen.
"I think this is consistent with an awful lot of other things that I've been doing for a decade or more, and the notion that someone ought not change a position as they learn some things is just not one that I accept," he said. "It is important to be tough on crime, but part of a successful criminal justice system needs to include rehabilitation and re-entry into society."

Copyright © 2018 The Washington Times, LLC.