The coordinated attacks to pressure advertisers (and now radio stations) to drop Rush Limbaugh is something everyone should be concerned about, as it is no coincidence that the Georgetown University Law Center student Sandra Fluke, the 30 year old woman at the center of the storm (background here), told viewers of ABC's "The View" to go to the Media Matters website "for examples of commentators who attacked her."
How convenient. This is the same Media Matters that drew up a plan, known as Project 2012, a document that outlines the organization's long term strategy to politically combat conservative messaging in the media. This is also the same Media Matters, whose president, David Brock, met with former White House Communications Director Anita Dunn on a regular basis. Finally, this is the same Sandra Fluke who received a sympathetic phone call from the White House after Mr. Limbaugh made critical but offensive remarks on the radio about Fluke.
Although Limbaugh later apologized both on his website and on the air on Monday, saying that he sank to liberals' level when he insulted Ms. Fluke, Fluke refused to accept the apology.
Mr. Limbaugh said that he is not concerned about losing advertisers from his radio program, as there are other advertisers he had to turn away in the past.
As I mentioned in my last post, the "Media Matters Project 2012" strategy is being followed precisely by liberals right now—and not just in the Limbaugh case, by the way.
Here are some strategy excerpts from Media Matters Project 2012 to consider when the left attacks Limbaugh and how they attack others who do not relay their agenda to the masses.
In the section MMFA titles "Creating a Culture of Corporate Accountability" the organization recognizes that while it has been aggressively attacking "the out-of-power right-wing noise machine," it has also found that its "successful advertising targeted campaigns in 2009, proving that by highlighting the damage that certain media outlets and individuals do to political discourse and the opportunity for reasoned accurate, and informed debate, we can prevail on advertisers, the media, and the public to act in the public interest."
The section then goes on to describe examples of their advertiser targeted campaigns against former Fox News host Glenn Beck. Mr. Beck lost advertisers when a firestorm of complaints were sent to the companies who bought airtime on the Fox News Channel during his time slot.
MMFA also cites their "Drop Dobbs" campaign against the former CNN anchor and now Fox Business host Lou Dobbs. MMFA discusses how they went after CNN's advertisers during Dobb's program time. Eventually, Dobbs was forced out after too many advertisers dropped from his show.
Although two other media personalities are not listed in this document, it is more than likely that the calls for CNN to fire contributor Dana Loesch over remarks she made on her St. Louis radio show about U.S. troops in Afghanistan, who urinated on the corpses of Taliban members, was an orchestrated campaign that originated from liberal groups. The same goes for long time conservative commentator and former Republican presidential candidate Pat Buchanan, who was forced out of MSNBC recently over a book he wrote.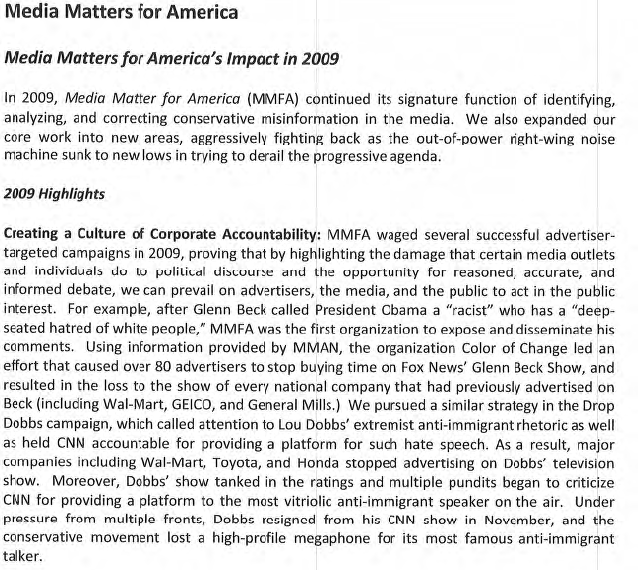 The excerpts below from the Media Matters Project 2012 document discuss how the organization reaches out to their allies within the liberal/progressive movement and mobilizes them to become part of their "advertiser pressure campaigns" that target conservative media commentators.
"For example, MMFA reached out to our many progressive allies to enlist major Latino organizations and members of Congress to join the Drop Dobbs Coalition. Our new media and print teams also triggered an onslaught of critical coverage on Dobbs and CNN, tipping the balance against the pundit until he was forced to depart from CNN," the MMFA document states.
"Advertiser Pressure Campaigns"

Company CEO's are not the only ones who are supposed to feel the heat from liberal campaigns who are looking to intimidate networks and corporations. The shareholders are used as a weapon against their own companies who buy advertising.
In the following two sections, the MMFA pushes the idea of conducting micro-campaigns against "Fox News' advertisers, personalities, and hold demonstrations at network sponsored events to reduce its revenue and perceived popular support as well as create a conundrum for shareholders investing in this controversial business enterprise."
Company shareholders are also used in lawsuits by Media Matters. More on that later.
"Coordinating Grassroots Activism"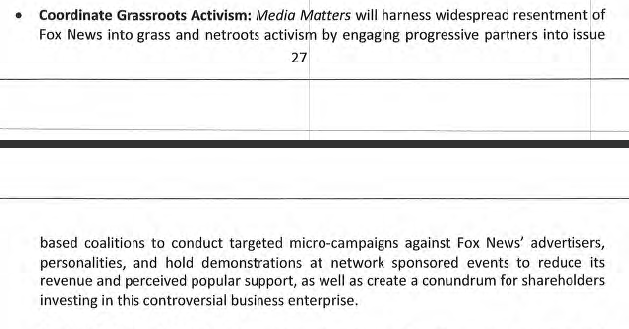 Below is a list of liberal progressive groups Media Matters communicates with to "amplify" their work and to "react quickly and efficiently to key opportunities."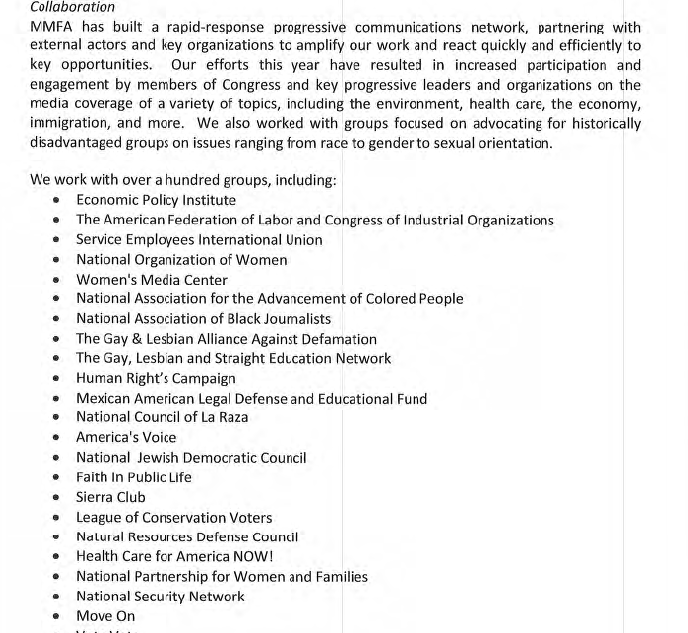 MMFA claims that using this network of allies helped in their demanding that Fox News Channel's Bill O'Reilly apologize for remarks he made about reporter Helen Thomas in 2009. The MMFA report notes:
"A (Women's Media Center) representative, Courtney Martin, appeared on O'Reilly's Fox show to challenge his comments. The WMC continued to feature our research as the year progressed by criticizing the sexist media coverage of House Speaker Nancy Pelosi and Supreme Court nominee Sonia Sotomayor. The group also co-signed our letter to the Washington Post ombudsman holding the paper accountable for a sexist online skit targeting Secretary of State Hillary Clinton. As a result of this campaign, the Post cancelled the web series."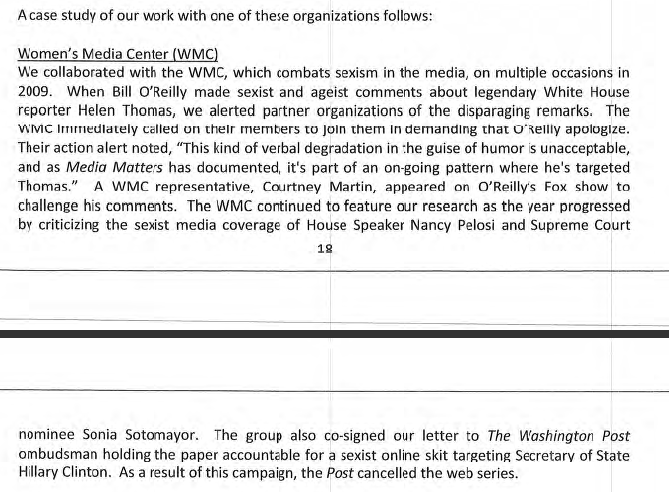 Just because there is a first amendment does not mean the liberals over at Media Matters want everyone to have that freedom. According to their Project 2012 document, the "litigation" section remarks that the "right-wing noise machine has relied upon both an expansive view of legal precedent protecting the freedom of the press, and the progressive movement's own commitment to the First Amendment to shield it from any accountability for their actions that deceive the public, smear progressives, and undermine an agenda of reform."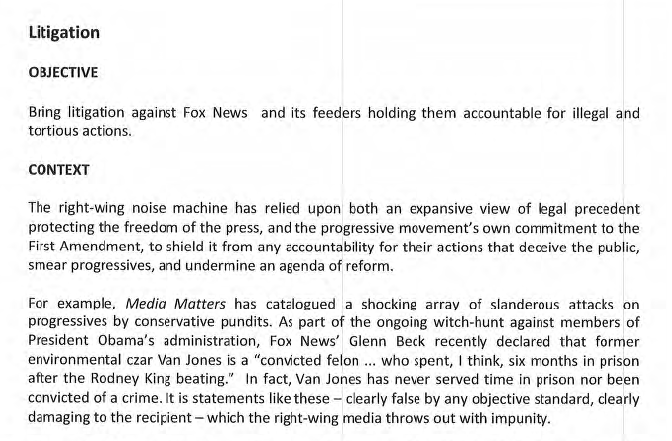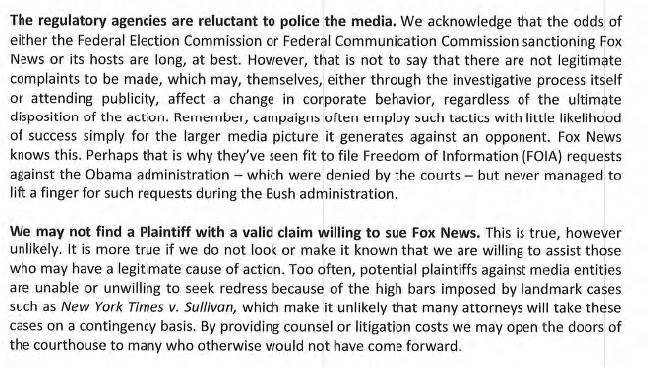 On July 11, 2011 Media Matters placed a post describing a lawsuit that News Corporation's shareholders filed against the media conglomerate:
A group of News Corp. shareholders led by Amalgamated Bank has sued the media company claiming several of its business decisions, as well as the recent phone-hacking scandal at News of the World, have adversely affected shareholder interests.

The lawsuit claims, among other things, that "News Corp executives are … grossly overpaid, ensuring their loyalty to Murdoch and his personal initiatives," later stating that Murdoch is "larding the executive ranks of the Company with his offspring."

Among the lawsuit's complaints: the company's purchase of Elisabeth Murodoch's Shine Group has harmed the shareholder value; the board as it is comprised has numerous conflicts of interest; and the phone-hacking scandal has hurt the company's reputation and investor value.
The excerpts show that MMFA has very little confidence in both the Federal Election Commission and the Federal Communication Commission "to police the media." MMFA is exploring legal avenues that can bring about bad publicity for an MMFA opponent through the judicial investigative process alone. "Remember campaigns often employ such tactics with little likelihood of success simply for the larger media picture it generates against an opponent," it says in the litigation section.
The MMFA Project 2012 document also includes a small section called "Elite Persuasion." Here, MMFA emphasizes the importance of getting "political and media elites in key markets with aggressive advertising and individual outreach.." to damage Fox News. Once again, this strategy can be applied else where as well.

House Minority Whip Steny Hoyer, Maryland Democrat, encouraged Sandra Fluke to file a lawsuit against Rush Limbaugh for the remarks the radio host made about her, reported the Montgomery Advertiser:
"I'd like to see her take him to court," said Hoyer, who was in Selma for the annual Bridge Crossing Jubilee. "She is not a public figure and, for that reason, she should be able to sue for slander, libel or whatever else might be involved."
Finally, a section in the MMFA document goes into the likely "blowback" and "negative publicity" of their actions as well as potential "campaign fatigue."
However, MMFA believes that the "progressive movement is wide and diverse enough that persons who are deeply committed to a particular cause or actively involved in another coalition "is likely to spur additional participation."
The document continues: "By reaching out not to just the same prominent national organizations, but to the state, local, professional, and academic arenas, we can create broad coalitions of unique groups and avoid exhausting the progressive space or causing the targets of our efforts to discount their influence on account of repetitious demands."
Interestingly, the second paragraph, which discusses the "blowback" issue, notes former White House communications director Anita Dunn. While MMFA says that it expects Fox News to "publicly and privately strike out at its critics" it is "nothing new" to their organization. Saying that the cable news channel has "thin skin," MMFA also says, "We welcome the debate - and the publicity it will provide, thus putting the focus on the network just as we saw after White House Communications Director, Anita Dunn's criticism of the network."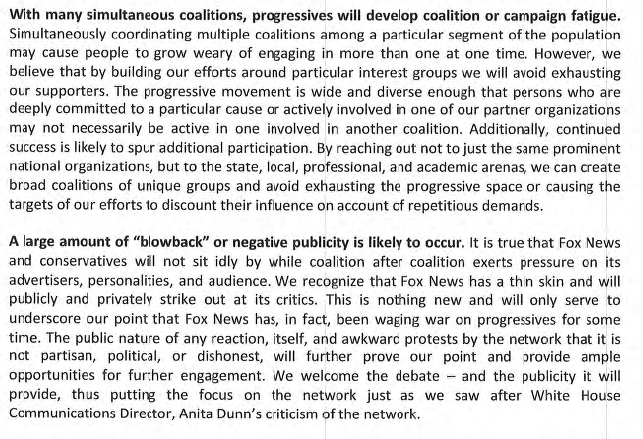 According to the Daily Caller's series on Media Matters, Ms. Dunn was a regular visitor to the MMFA DC office:
A group with the ability to shape news coverage is of incalculable value to the politicians it supports, so it's no surprise that Media Matters has been in regular contact with political operatives in the Obama administration. According to visitor logs, on June 16, 2010, Brock and then-Media Matters president Eric Burns traveled to the White House for a meeting with Valerie Jarrett, arguably the president's closest adviser. Recently departed Obama communications director Anita Dunn returned to the White House for the meeting as well.

It's not clear what the four spoke about — no one in the meeting returned repeated calls for comment — but the apparent coordination continued. "Anita Dunn became a regular presence at the office," says someone who worked there. Then-president of Media Matters, Eric Burns, "lunched with her, met with her and chatted with her frequently on any number of matters."

Media Matters also began a weekly strategy call with the White House, which continues, joined by the liberal Center for American Progress think tank. Jen Psaki, Obama's deputy communications director, was a frequent participant before she left for the private sector in October 2011.
MMFA is well aware that companies, networks, and radio stations could dismiss customer complaints about a commentator, for example, as coordinated liberal attacks that do not represent the consumers who watch and or listen to the programming that MMFA is targeting. MMFA admits that "advertisers will begin to recognize our strategy and discount its impact."
The section continues: "It is important to remember that advertisers support the network to sell a product. Fear that their brand will be tainted in a large segment of their market or general public will motivate them to drop Fox News. By creating unique coalitions representing a broad set of individuals, rather than the same handful of groups over and over again, supported by the polling data we obtain, we increase our chances to convince particular companies that the danger to their product is in a broad segment of the population, not just a select few who despise fox News."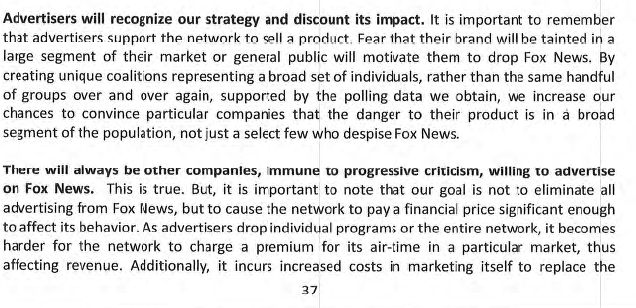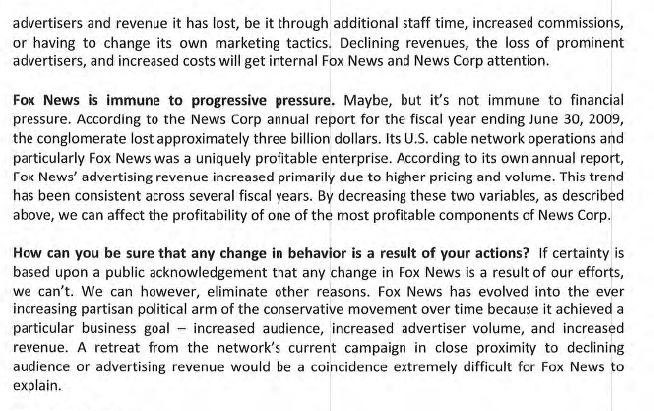 One such "unique" coalition that surfaced to call for Rush Limbaugh to be dropped from Armed Forces network was a left wing female veterans organization known as "Vote Vets." Senator Carl Levin, Michigan Democrat and Chairman of the Senate Armed Services Committee, chimed in on Wednesday and reportedly said he would "love" to see Armed Forces Network drop the Rush Limbaugh show.
"I think that is probably an issue that should be left to the folks that run that network," Levin said. "In other words, I'd love to see them drop it but I don't think I'd legislate it."
Once again, although the MMFA report above, first shown to the public by The Daily Caller, weighs heavily on plans against the Fox News Channel, nonetheless the tactics have already been used against the network, radio personalities, and TV commentators on other cable news channels. And any journalist, media outlet, or media personality who thinks they may not be a target of such coordinated campaigns should think twice.