Former Florida Congressman Alan Grayson, a Democrat, is running for office again. Grayson is in a Democratic primary for the newly redrawn FL-9th CD. As opposed to his previous district that leaned more conservative, the district leans heavily Democrat. Southern Political Report is predicting whoever comes out of the Dem primary will "likely" win the general. SPR writes:
Florida's post-redistricting 9th District (Clearwater, etc.) was designed to meet the Voting Rights Act requirement to favor a minority, i.e., Hispanic candidate, as well as to elect a Democrat. The district's voting age population is 41% Hispanic, 43% white and 10% black. The Hispanic population is more than half Puerto Rican, who mostly vote Democratic, with only a small share of Cubans, who generally vote Republican. Within the district's boundaries, Obama led McCain by 21 points in 2008, and in the 2010 governor's race, Democrat Alex Sink led the GOP's Rick Scott by 10 points.

Enter Alan Grayson, a former congressman who would like to get back to Congress. He quickly raised a hefty war chest; as of March 31, he had $826,000 cash-on-hand. As a result, despite the fact that Latinos are the largest ethnic group in the district and are mostly Democrats, no Hispanic candidate tried to challenge Grayson for the nomination. However, as an aggressive liberal, Grayson probably fits the political outlook of Florida's Puerto Rican voters.

Grayson, during his single term in Congress, was known for his acidic over-the-top rhetoric, once referring to the Republicans' healthcare plan as "Don't get sick. And if you do get sick, die quickly!" And in an interview with Al Sharpton, he quipped that "George Bush is no more popular than venereal disease." Grayson voted with the Democratic majority approximately 98% of the time, according to a Washington Post analysis, which should not cause him difficulty in this Democratic district. No surprise, Grayson has recently been endorsed by the state AFL-CIO.

On the Republican side, the leading contender is former state Rep. John Quinones, 47, an attorney, who was born in Puerto Rico and educated in Florida. He has not been in the race long enough to report his fundraising. Three other Republicans, Todd Long, Osceola School Board member Julius Melendez, and Mark Oxner, are also running. Melendez had $49,000 on hand as of March 31; Oxner had $27,000; and Long only $755.
Oxner has his eyes set squarely on the general election already. In a statement about Democrat Alan Grayson, Oxner wrote:
"We need congressmen to get out of our way, not demand loyalty oaths. When politicians have a superiority complex, they are capable of demanding anything from their employees and constituents. Alan Grayson, like other Progressive elites, puts himself above the rest of us in America. Grayson and his ilk overestimate the role of Congress. America needs representatives who will get the government out of the way of job creation and a growing economy."
Grayson not only irritated conservatives and Republicans on Capitol Hill during his initial short tenure as a Florida representative but also those who worked with him. In 2010, Grayson engaged in a nasty re-election race against now Congressman Daniel Webster, a Republican. In one ad, Grayson called Mr. Webster "Taliban Dan Webster. Another ad that did not air in 2010 involved Mr. Grayson handling a prop gun and aiming it at actors, who were playing robbers looting a bank.
According to Tom Ubl, who says he volunteered for Grayson on Grayson's 2008 congressional campaign and was a client of Grayson's, the Florida Democrat's campaign staff went apoplectic over a 2010 political ad showing Grayson wielding a prop gun.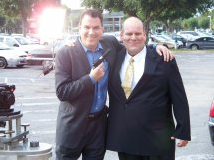 "His campaign staff would not allow him to release it," says Ubl. "It was a commercial where there was two or three guys looking like they were making off with bags of loot into the back of a limousine, and he goes, 'Halt! Hold it right there!' And he pulls a [prop]gun out from the back of his waistband and points it at them."
Ubl says that Grayson's former chief of staff [Julie Tagen] "went off the hook" at him over the commercial at the time. Given the content of the unaired ad, his campaign and congressional staff may have been worried over support he received from gun control allies in the past. It should be noted that Mr. Grayson was endorsed by the Brady campaign in 2008. (p.21):
More than 90 percent of all Brady endorsed House members won. Many of the NRA's top supporters were defeated, including incumbents Marilyn Musgrave in Colorado; Phil English in Pennsylvania; Ric Keller and Tom Feeney in Florida; and Joe Knollenberg.

in Michigan. Successful Brady endorsed candidates won even in states with a significant percentage of gun owners, like Maine (Chellie Pingree), Kentucky (John Yarmuth), Iowa (Dave Loebsack) and Virginia (Gerry Connolly). Some Brady endorsed candidates who won House seats — like Alan Grayson in Florida and Gary Peters in Michigan — were considered underdogs for much of the election cycle.
In fact, Mr. Grayson also wrote the following on his website after the shooting of Arizona Congresswoman Gabby Giffords:
I know nothing about the man who shot Gabby, and what was going through his mind when he did this. But I will tell you this - if he shot Gabby out of hatred, then it wasn't Gabby he was shooting, but rather some cartoon version of her, drawn by her political opposition. Because there is no way - NO WAY - that anyone who really knows Gabby could hate her or hurt her. She is a kind, gentle soul.

Florida's state-wide primary is August 14 and Mr. Grayson is currently running un-opposed.