Senator Jeff Sessions, Alabama Republican and ranking member of the Senate Budget Committee, is not buying the administration's claims on the president's updated budget and is demanding that President Barack Obama's campaign remove an ad (above) that says he has a plan to 'pay down the debt in a balanced way.' President Obama claims his plan, which includes his tax proposal that would hike taxes on those making $250,000 and above would be used to pay down the debt.
However, according to Sen. Sessions, the president's new plan would go towards additional government spending on top of existing baseline spending levels.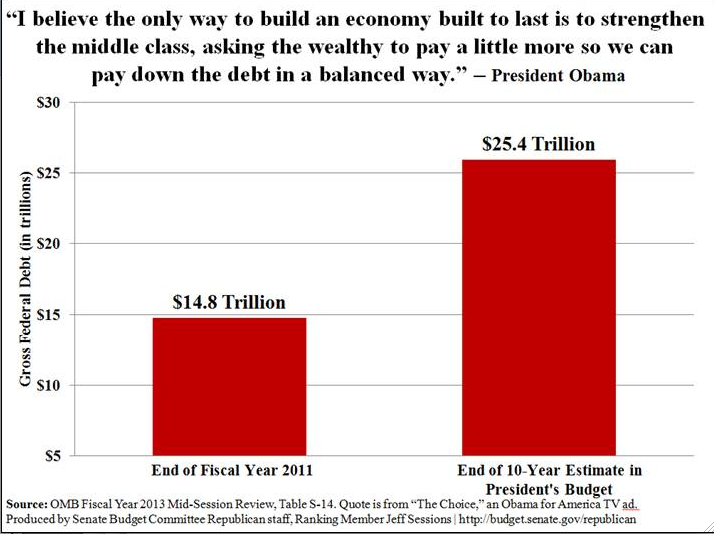 Sen. Sessions's office released the following statement:
U.S. Sen. Jeff Sessions (R-AL), Ranking Member of the Senate Budget Committee, issued the following statement today about President Obama's mid-year budget update, which is required by law to be submitted to Congress every year no later than July 16:


"President Obama is currently running a campaign ad saying he has a plan to 'pay down the debt in a balanced way.' He has made this claim in public remarks as well. But his updated budget—submitted two weeks after the legal deadline—reveals just how dramatically false this claim is. These ads ought to be pulled down.

His updated budget proposes a $10.4 trillion increase in gross debt through the next ten years, with debt remaining permanently above 100 percent of GDP. The picture in the out-years looks even bleaker. No change is proposed to our dangerously unsustainable debt course. Meanwhile, the President's party in the Senate has refused to even produce a budget plan at all for three straight years.

America can have robust economic growth—and avert a catastrophic debt crisis—but it requires a credible fiscal plan and the leadership necessary to achieve it."
President Obama is now urging lawmakers in the House to "do the right thing" and pass his plan that was already passed in the Senate. The president is currently accusing GOP lawmakers of holding "middle class tax cuts hostage."